Weddings Venues in Hong Kong
Weddings may be one of the most significant events in our lives, may it be the wedding of a family member or a close friend, or our very own. When couples get engaged, naturally they won't be able to help themselves in planning their dream wedding. 
The fundamental goal of a wedding is to commence a marriage filled with love and enthusiasm. Weddings are wonderful occasions, and if guests are unhappy, it may detract from the overall cheerful atmosphere. There's no disputing that choosing the ideal wedding venue goes a long way toward guaranteeing that all of your guests arrive pleased and leave satisfied. The occasion should be a memorable moment for everyone. Thus, the wedding venue must entice the appropriate mood to make the day as magical as possible. 
More and more binational couples are looking into getting married in Hong Kong. But the question here now is this, where can binational couples get married in Hong Kong? If you want the answer to this question, keep reading. This blog will introduce you to the two (2) most sought-after wedding venues in Hong Kong for binational couples. 
Cotton Tree Drive in Hong Kong is regarded as a magical wedding site and is one of the highly recommended venues for special occasions. Why? The Cotton Tree Drive is the perfect destination for anyone who likes nature. It is a venue that is less conventional yet the outdoor setting will still prompt a romantic feel.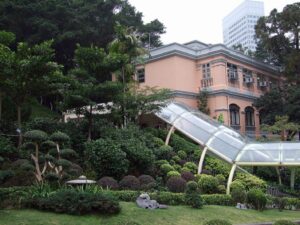 Cotton Tree Drive weddings imply sealing your fate in a gorgeous park bounded by luscious blossoms and tropical landscapes. Inside Hong Kong's frantic roads and congestion, it almost feels like you're in another world, one that is magical and serene. It's a location that surely you and your guests will appreciate. Not just because it's right in the middle of a park, but also because it's one of the most beautiful gardens the city of Hong Kong has to offer.
All year round this location is filled with blossoming flowers, lush tropical, birds, some little streams, and exquisite fountains, and because of that, this venue will add more beauty to your wedding photos. It also provides an amazing view as it is around tall skyscrapers. Rawlinson House is the name of the historic building of the registry, it dates back to the Victorian era. It has a large wooden entrance, black and white flooring, and red furnishings, making it a lovely wedding venue. Cotton Tree Drive is a good mixture of traditional beauty and a nostalgic aesthetic. After the wedding, you can also take a walk across the expansive garden or pledge your love beneath the heart-shaped archway. If you don't mind getting wet, we'd also like to recommend that you head to the fountain of Bridal Falls and conduct a short photo op. 
However, if you only want a private and intimate wedding, the City Hall Marriage Registry in Hong Kong is always ready to assist you. There are several town halls around the globe where you may get married, but the City Hall Marriage Registry is quite unique. If you choose to have your wedding ceremony here, you can expect that there will be lovely rooms, a great backdrop for wedding photographs, and personnel who are fluent in English. You may even request that your pictures be included on City Hall's Facebook page.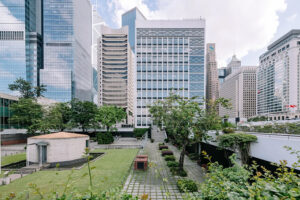 It features a very calm yet classy environment, even though it is Hong Kong's largest wedding venue. It can accommodate both small, intimate weddings and somewhat larger gatherings. The accommodations are good, and the staff will ensure that your day will be memorable. The overall environment of the City Hall is lovely. The urban elegance, as well as the nearby Memorial Park, one of Hong Kong's greatest gems, is perfect for stunning wedding photos. This site is also amazing all year round and genuinely one of a kind. The closeness to the waterfront and venues such as the Mandarin Oriental Hotel make it a great location for a wedding to indulge your family, friends, and yourself.